Vehicle Specific Upgrades
StarLine M66 Tracking, Immobiliser, Remote Immobilisation, Tilt, Shock, Motion Sensors, Phone Alerts & Smartphone App Fully Fitted
StarLine M66 Tracking, Immobiliser, Remote Immobilisation, Tilt, Shock, Motion Sensors, Phone Alerts & Smartphone App Fully Fitted
5
1
Product Code:
StarLine M66 with immobiliser
Availability:
In Stock
StarLine M66 with Tracking, Immobiliser, Remote Immobilisation, Tilt, Shock, Motion Sensors, Phone Alerts & Smartphone App Fully Installed in two hours at our store workshop in Ilford IG2 6QA
What is the Starline M66 Tracking System?
The StarLine M66 Smart Tracking Security has a whole host of features designed to protect your vehicle in many ways. Designed to integrate into your vehicles factory wiring, the StarLine Smart Tracking is both easy to use and highly efficient at protecting your vehicle from hi-tech thieves.
How the Starline M66 Tracker With Immobilisation Works?
The StarLine M66 Smart Tracking Security comes supplied with one StarLine Smart Bluetooth ID tag to control the system. It detects when a StarLine Smart BT ID tag approaches and will then disarm, it also detects when a StarLine Smart BT ID tag leaves the vehicle and will then arm. This happens automatically, without any extra input required from you. If your vehicles key has been cloned and an attempt has been made to start the vehicle it will not start and will remain immobilised as the starline tag is not present, you will then receive a phone call, text and app notification from the StarLine M66.

---
SmartPhone APP
The StarLine M66 Smart Tracking Security comes with free-for-life satellite services using GPS/GLONASS. Some included great features are location detection on your smartphone, tracking and monitoring online, geo-fencing, travel history, driving style evaluation, online diagnostic services.
*Whilst there is no subscription charge for the App tracker or Alarm control/notifications, the customer is responsible for the upkeep of the SIM card supplied and fitted inside. Upon installation, there will be £30.00 sim card top required by the customer lasting approximately a year, depending on usage.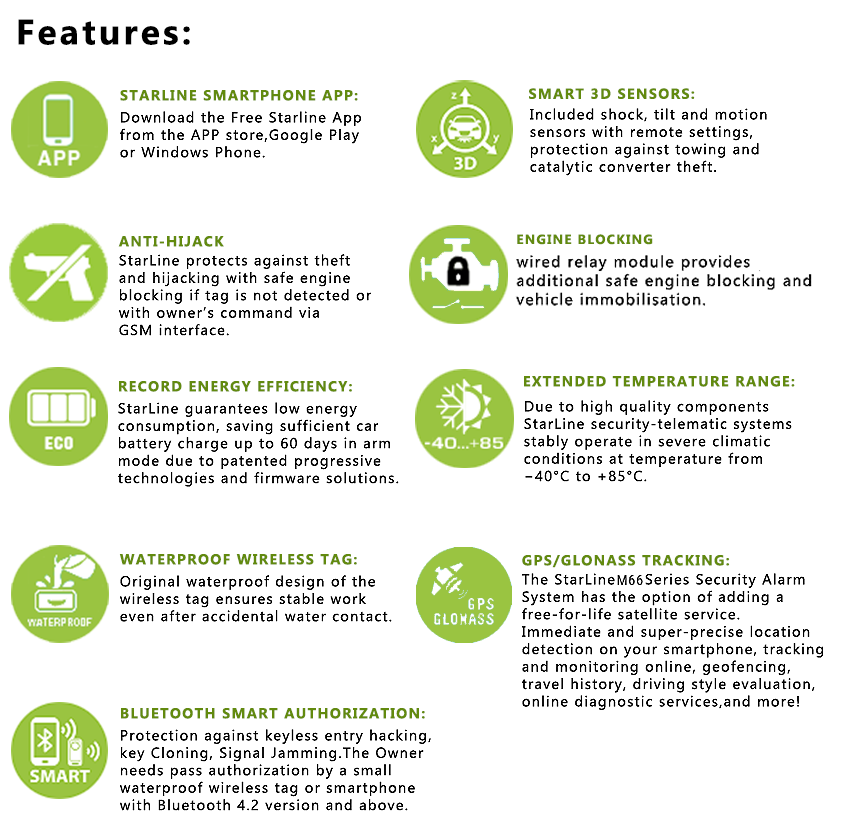 ✔ StarLine M66 Tracker With Immobiliser & Remote Immobilisation
✔ StarLine BT Tag x1
✔ Free Smartphone App

✔ Installation at our workshop by a StarLine Approved Engineer.
✔ Free Installation of any optional extras purchased at the same time.
✔ Full Demonstration after completion.
✔ 12 Months Guarantee on Parts and Installation.
Does the price include Installation?
Yes, all included in the price with installation at our workshop located in Ilford IG2 6QA.
Can I pay in monthly instalments?
Yes, we offer Interest free credit on this product to find out more contact our sales team on 0208 5545554.
How long does the installation take?
It's dependent on the vehicle, however, most vehicles take approximately four hours.
Can I trust you to work on my vehicle?
Absolutely, We have been fitting all types of vehicle security products for 20+ years on all types of vehicles. Each Installation is carried out with great care ensuring all parts taken off are put back how they should be. Our team of engineers are StarLine Approved, Thatcham Accredited and TASSA certified as well as CRB (Criminal Records Bureau) checks done, so you are in safe hands with us..
How soon can I book my StarLine M66 Installation?
We make every effort to supply and install the StarLine M66 within ten days from purchase date.
Does the StarLine M66 interfere with my start/stop on my vehicle?
The StarLine M66 detects if your vehicle has start/stop feature, so If your vehicle stops the engine at traffic lights it automatically restarts as it normally would before the StarLine M66 was Installed.
How long is StarLine M66 guaranteed for?
There is a one-year guarantee from the installation date.
What happens if I sell my vehicle?
We can remove the StarLine M66 and Install into a different vehicle (vehicle dependent, de installation charges will apply) or you can leave it in the vehicle which will increase the selling value.
What happens if the vehicle is leased?
We can remove and install in different vehicle (vehicle dependent) once your lease has ended.
AUDI



BENTLEY


FORD


IVECO


LAND ROVER/RANGE ROVER
We recommend that you have your installation carried out by a qualified car audio and security installer. Our experienced installation team can take care of all kind of car audio and security installations.
Car Stereo

Andriod Screens

Apple Carplay / Andriod Auto Integration

Multimedia Audio Visual (Sat/Navs, Headrest Screens, Roof Screens etc.)

Speakers/ Subwoofers / Amplifiers

OEM Adapters Installation (DAB, iPod, iPhone, USB, Bluetooth, Aux)

Dash Cameras

Bluetooth Hands Free Car Kit Installation

Vehicle Alarm Systems

Vehicle Tracking Systems

Vehicle Immobilisers

Reversing Camera / Parking Sensors
Other than vehicle immobiliser and tracking systems all other installations are carried out at our London based Car Audio and Security Installation Centre