Vehicle Specific Upgrades
Adaptiv ADV-VW1.EU Volkswagen Golf, Polo, Passat 2015> Factory OEM Multimedia SATNAV/USB/SD/AUX Upgrade
Volkswagen Adaptiv OEM Multimedia And Navigation Upgrade
The Adaptiv interface allows extensive multimedia and navigation upgrades to the OEM screen of your Volkswagen. It is an all in one interface that adds Navigation, USB/SD and Aux inputs as well as support for an aftermarket reverse camera. There is also an option to add a DVB-T Tuner and a DAB Tuner to the system, which can be controlled by the OEM controls as well as an HDMI Input.
The Adaptiv Interface Is Suitable For The Majority Of The Volkswagen Range With An Radio Screen Installed
You wan

t to supplement your factory-installed media system with modern navigation and communication functions? No problem. Navigate your destination with ease with map coverage that covers 47 European countries a

nd
keep
up to date with the latest traffic news with live updates thanks to TMC Adaptiv's system. The
adaptiv
system not only extends your OEM system with complete navigation but also with a USB port, microSD card reader, aux inputs and rear view camera port. Some Volkswagen's lack original GPS navigation, now we can now solve your integrated GPS wish at half the cost of a factory one. If you own a Volkswagen Golf/ Polo/ Passat with AUX input but without original navigation, this is your best solution to integrate a GPS solution to your existing car stereo. This amazing GPS navigation not only gives you access to a map data across Europe but also enables many other functional connections to your existing display in your Volkswagen. How about playing a movie via the USB input or connecting a TV receiver or back camera? You choose what else you want to install in
your Volkswagen
.
The compact design of th

e
Adaptiv
-Box means no changes are made to the factory media system. There are some interesting expansion options for the Adaptive system via external function modules, such as the connection of a DVB-T (Optional ADV-DVBT) and DAB tuner (Optional ADV-DAB), Also you are able to view your smartphone on the factory Peugeot screen, which you can simply and easily control with the factory-made controls of the OEM radio, using the HDMI input (Optional ADV-HDMI) for connecting Android-based smartphones and Apple iPhones.
Core Features:
Play audio from the factory radio source

An intuitive and logical operation

Connecting an aftermarket reversing camera

USB port for media playback

MicroSD card port

AUX input for audio

Versatile expansion possibilities

Navigation computer

8 GB SD card with navigation software and map data EU

Car-specific cable

GPS antenna with 5 m cable

TMC antenna line

A / V + RVC in / out cable Interface

LVDS connection cable

Album art is also supported in audio mode playback.

Unit dimensions: 170 x 95 mm

European map coverage for 47 countries (based on TomTom) to 8 GB SD card

3-D navigation with a realistic 3D view of the terrain, sights, city centers and curves

Lane Assistant on the navigation map, view of the traffic signs in the navigation map, tunnel mode

TTS spoken instructions in 29 languages

TMC receiver for traffic updates

Menu navigation in 28 languages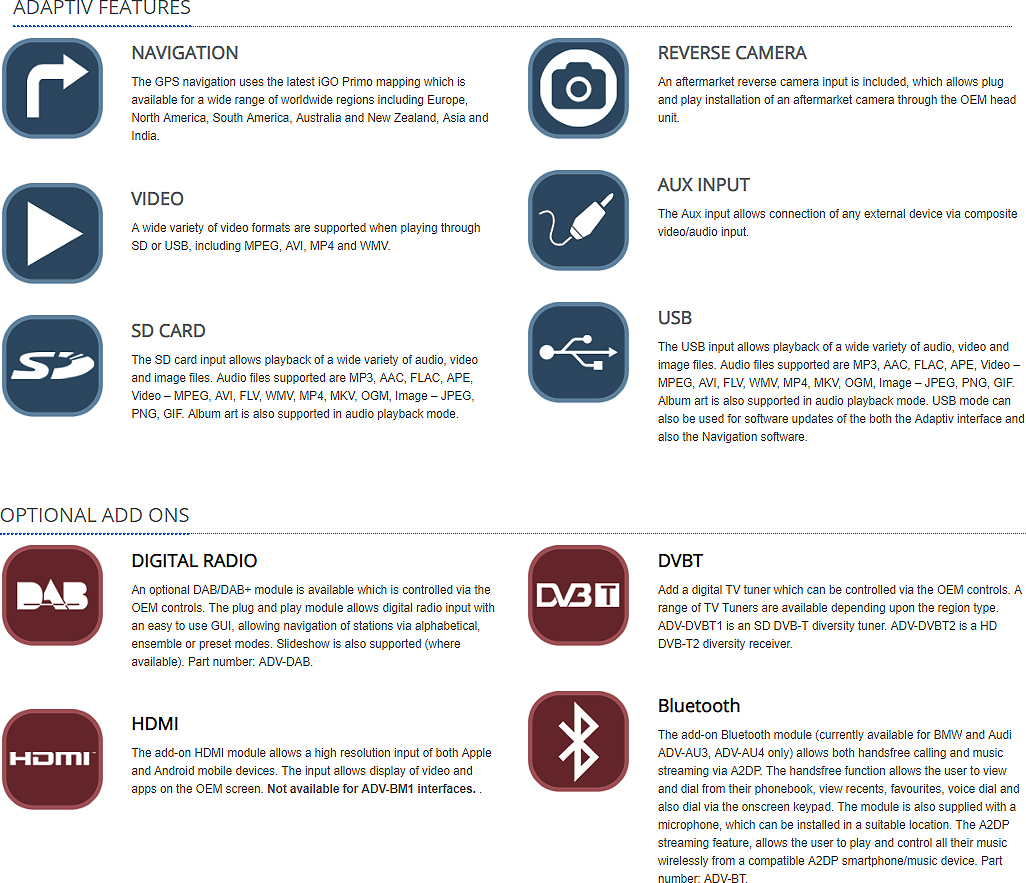 *Additional Accessories Sold Separately Check "Optional Extras"
*Before making your purchase please check your vehicle make, model and year is listed on the vehicle compatibility list located on the bottom of this page, if your vehicle details are not listed or you're unsure please contact our sales team on 0208554 5554.
VEHICLE COMPATIBILITY LIST
(5.8"/6.5"/8.0" Display SYSTEM)
| | | |
| --- | --- | --- |
| MODEL [CODE] | START YEAR | END YEAR |
| Volkswagen Golf [Vii/ R/ Sportsvan/ GTI] | 2012> | - |
| Volkswagen Passat | 2015> | - |
| Volkswagen Polo | 2014> | - |