Vehicle Specific Upgrades
Bentley GT Continental & Flying Spur CarPlay & Android Auto Integration On Factory Radio
Bentley GT Continental & Flying Spur CarPlay & Android Auto Integration On Factory Radio
Bentley GT Continental & Flying Spur Infotainment CarPlay & Android Integration
The latest cutting edge interface for the Bentley Continental GTC/Spur 2011 onward that has the factory touchscreen stereo, this upgrade option will allow you to seamlessly use android auto or apple carplay on your existing Bentley factory touchscreen stereo.

This interface which will allow Bentley's from 2011 onward to use Apple Carplay and Android Auto with the existing Bentley In Car Entertainment System and you do not need to replace the factory touchscreen. You can have full functionality of Apple Carplay and Android Auto straight from your existing Bentley touchscreen Infotainment System.
The new interface works seamlessly with the original Bentley Infotainment system. You can now use Spotify,Waze,Maps,Instagram,Google Search straight from your original Bentley touchscreen.
Get in touch with us now and book your Bentley in for this new interface to give your Bentley Apple Carplay and Android Auto functionality.
For all Bentley owners from 2003 to 2010 don't worry we have already got a method which will give you Apple Carplay and Android Auto in your Bentley using a conversion kit please see the Bentley Integration page.
---
Wireless CarPlay Integration On Factory Stereo
CarPlay is a smarter, safer way to use your iPhone in the car. CarPlay takes the things you want to do with your iPhone while driving and puts them on your car's built-in display. You can get directions, make calls, send and receive messages, and listen to music, all in a way that allows you to stay focused on the road. Just connect your iPhone and go.

CarPlay features Siri voice control and is specially designed for driving scenarios. CarPlay also works with your car's controls — knobs, buttons, touchpad or touchscreen. And the apps themselves have been reimagined for the car, so you can use them while your eyes and hands stay where they belong.
The power and simplicity of Apple Maps is available on your dashboard. CarPlay can predict where you're going using addresses from your email, text messages, contacts and calendars. You can search along your route for nearby petrol stations, restaurants, coffee shops and more. Or just use your voice: "Siri, where's the closest EV charging station?" And CarPlay doesn't just guide you — it helps you to get there safely by advising which lane to be in to make a turn and showing the speed limit.
CarPlay supports other apps on your iPhone — like your favourite audio, messaging and voice apps. Apps developed by car manufacturers are also supported, so you can control more of your car's features without ever leaving CarPlay. You can personalize your experience by rearranging exactly how your apps appear in CarPlay through settings on your iPhone.
Wireless Android Auto Integration On Factory Stereo
Android Auto takes the features you love about your Android-powered smartphone and puts them directly in your car's dashboard. Nifty, huh? It displays information on a familiar, easy-to-use interface with cards you can swipe out of the way, legible menus, and large icons.
You're not alone if you think it looks a little bit dated, which is why the software will benefit from comprehensive updates during the summer of 2019. It will bring a darker theme, an entirely new interface that draws inspiration from smartphones and tablets, plus a widget at the bottom to control media.
One of the best parts of Android Auto is the Google Maps-powered navigation system, which provides step-by-step directions and automatically finds an alternate route if it detects heavy traffic. It also ports over saved destinations from your phone, so you don't have to manually type in the address for "Home," "Work," or your favorite watering hole. The software also gives motorists on-demand access to millions of songs and podcasts, lets them surf the web, and allows them to stay connected via phone calls and messages.
All of the aforementioned features respond to basic voice commands, too. You can say "OK, Google, play The Offspring," or "OK, Google, what's the capital of Australia?" Heck, you can even ask, "OK, Google, what is Android Auto?" With voice commands, you can reply to messages using speech-to-text technology. Don't worry if your car isn't equipped with voice-recognition technology, though, as Android Auto's features are accessible using the touchscreen in your car. Just keep in mind that your smartphone's screen will be locked when Android Auto is active, though you can swipe to unlock it when it's safe to do so.
What's Included ?
✔
Professional Installation
✔
Integrated on original factory screen
✔
Wireless CarPlay

✔
Wireless Android
✔
Hands Free Calling
✔
Android Phone Mirroring
---
Five Great Reasons To Book With Us!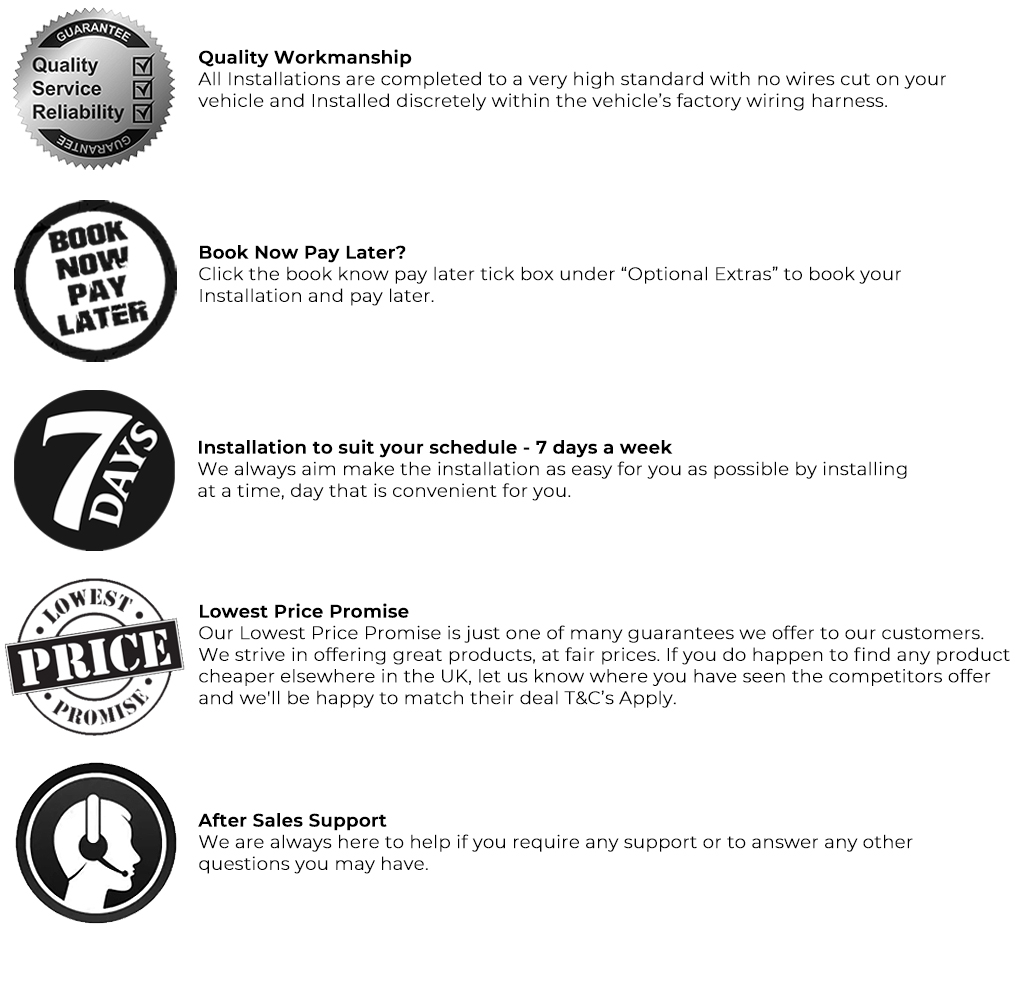 Compatibility List
| | | |
| --- | --- | --- |
| MODEL [CODE] | START YEAR | END YEAR |
| Bentely GT / GTC Continental | 2011 | - |
| Bentely Flying Spur | 2011 | - |